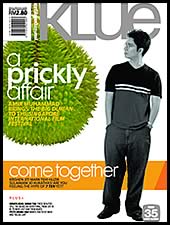 BEARING FRUIT IN SINGAPORE
By Brian Yap
(KLUE # 35 cover story, 22 May-04 June 2003)
Amidst SARS jokes and filmspeak, writer-filmmaker Amir Muhammad sits at a table with a few peers and two of the main driving forces of the 16th
Singapore International Film Festival, Geoffrey Malone and Philip Cheah, and to his right is Derek Malcom of UK newspaper The Guardian. It's a little
past one in the afternoon, but Amir has been up much earlier, watching some films at the festival office. Despite the company, Amir is relatively quiet and soft spoken - not quite the talkative and chatty person one might expect, judging from his humour-laden yet insightful writing.
Maybe it's just because he's hungry. With no breakfast, all discussions can
probably wait. The Chinese restaurant is completely empty and yet, the food' s taking a while to arrive. So much for Singaporean efficiency.
Slow service notwithstanding, the island-state is home to one of the region' s biggest film festivals. Amir arrived in Singapore by bus the day before to premiere THE BIG DURIAN, his latest film and second full-length feature. Fortunately, despite cancellations by many visiting filmmakers and an overhanging fear of sneezing and coughing people, the filmfest will go on. Attendance has been very encouraging, putting to rest fears that the 16th installment would be a pale shadow of the past years. Another positive note: the premiere of Amir's film will be held as planned, despite initial worries of it not making past the Singapore board of censors, which took three weeks longer than usual to approve it. Judging from the NC16 rating given, it probably found it, like the king of fruits, a little too strong for everyone.
_
In 1987, Amir Muhammad was a mere teenager. Of course, he wasn't just
another student; since the age of 14, he had already been writing for The
New Straits Times, where he would continue to contribute until December
1999, when his popular column Perforated Sheets was terminated by the top management of the daily. Apparently, Amir's writing didn't sit too well with the powers that be.
It's safe to say that THE BIG DURIAN will likely be regarded as equally
prickly. The film is a mockumentary on the state of the nation in 1987. It
was a year of heightened tension, with severe divisions in UMNO,
irresponsible politicians fanning racial sentiments, [events that would lead
to] the sacking of the Lord President, and Operasi Lalang. So when Private
Adam ran amok with am M16 and started shooting around Chow Kit, a whole nation stayed home.
All of which could make for an interesting and highly provocative
documentary, filled with interviews with witnesses, politicians, and former
detainees. But part of Amir's gift is his ability to make insightful
political, social and cultural commentary imbued with his near-trademark dry humour and cheeky wit. So instead of playing it straight, he makes THE BIG DURIAN a mix of real interviews and staged ones, putting the onus on the viewer to figure out who is real, and who is merely playing a character.
Amir was stubborn about combining real interview footage with those played by actors because it reflects the Malaysian way - no one ever really knows the truth, as seen in hindsight, all one can decide is which theory to believe. "THE BIG DURIAN shows how certain things, certain issues, will have a life of their own," he says. The film, Amir says, aims to recreate the feeling of uncertainty which requires viewers to figure reality/non-reality for themselves.
"I like getting the audience to do some of the work," he says.
Nonetheless, he claims the stories told by fictional characters are all
based on reality. His choice of characters does represent the myriad of
voices that exists in contemporary Malaysian society. There are
intellectuals, there are artists, and there are everyday Malaysians who
speak unpolitically correct but frankly. THE BIG DURIAN is a landmark
achievement because though the authenticity of some interviewees are
questionable, their honesty isn't.
Plus, instead of focusing solely on Private Adam or strictly on the events
of 1987, THE BIG DURIAN looks at the landscape of Malaysian politics at
large, giving a historical perspective on why things are the way they were
back then, and why they are the way they are today. Nothing happens in a vacuum, and though each generation likes to think everything begins with them, the film draws often-ironic comparisons of the past and present to show that history has a way of repeating itself.
"If you don't make a stand about things now, you are eroding your own locus standi," he says. Small, seemingly insignificant events gradually add to erode rights, he says, and these erosions should be documented.
Nevertheless, THE BIG DURIAN isn't an attempt to capture in detail
everything that went down 16 years ago. What he hopes is that it will
encourage people to be more skeptical and stir people's curiosity enough to encourage them to find out more for themselves.
_
The first Singapore International Film Festival was held in 1988, with about
50 films. 16 festivals later, there are about 350 films screened over a
month-long period. It's hard not to be envious of Singapore in this
instance. The films screened are impressively diverse, with works from
up-and-coming Asian filmmakers such as Singapore's Royston Tan to the late Armenian director Sergei Paradjanov, and Oscar winners like Michael Moore to indie names like Michael Winterbottom. Amir spends most of his time here at the film festival's office, where he watches about 50 films on video.
Though it's rather embarrassing that we've yet to come up with something as world-class as the SIFF, Amir thinks both Malaysia and Singapore have
something in common: we're the least dynamic and happening when it comes to filmmaking compared to other East-Asian nations. Part of the reason, he says, is our political history shows a lack of willingness to take risks.
"We're not curious. We have a passive, consumerist culture," he says. "And we have a sense of entitlement." Of course, there's also a lack of pride in our work, something which comes across in anything we do. "Whatever film scene, it's a reflection of society," he adds.
Nevertheless SIFF has given Asian filmmakers like Amir a major avenue to
screen their work. Here in Malaysia, for example, filmmakers often organize
their own screenings, which attract a rather small following. Every year,
SIFF gives Malaysian films a wider audience and due recognition. In fact,
last year, one of Amir's shorts, LOST, won an award at the festival.
Although it's the "world premiere", THE BIG DURIAN has actually been
screened twice in KL. At the Malaysian premiere, there was much love for
Amir, whether from the cast members present, fans of his work who were
willing to pay RM50 (in aid of the police-raided Malaysiakini) or the
Malaysiakini people grateful for every RM50 Amir managed to get them.
But this is Singapore. With the uniquely Malaysian perspective of THE BIG
DURIAN, it's hard to say if Singaporeans would be able to fully relate. Even
Amir admits that the film is made with a Malaysian audience in mind. In
fact, though the film has interviewees responding in every major language
and dialect in Malaysia, Amir narrates in the national language. He wants to screen the film in universities and colleges, and from his last experience
with 6horts, he realized that English, to many, is still a distant second
language. With the reverse true in Singapore, it would be interesting to see the audience's response.
"Malaysians always ask 'What's the film about?' and Singaporeans always ask 'How much did it cost?'" he jokes of a typical post-screening Q&A. "So
Malaysians are stupid, and Singaporeans, shallow."
At the premiere, though the cinema is only three-quarters full, the question and answer session is a lively one. One Singaporean praises Amir for his bravery in making THE BIG DURIAN and compared the socio-political landscapes of both countries as being rather similar. In fact, he points out, in 1987, Singapore had its own version of Operasi Lalang, Operation Spectrum. Another one makes a comparison between THE BIG DURIAN and BOWLING FOR COLUMBINE which was one of the most-anticipated films in this year's SIFF. Post-Q&A, a few members of the audience come over and thank him for making the film, one offers to give him a copy of BOWLING FOR COLUMBINE while another asks for his autograph. It turns out there is just as much love for Amir and his BIG DURIAN in Singapore.
But nobody asks the money question.
© KLUE magazine / Freeform Sdn Bhd.
---
[x] close